IES and LDT (EULUMDAT) are text files that describe the beam pattern of a light source. They can be used as inputs in various free optical analysis programs to calculate the light intensity patterns of complicated lighting scenes. In contrast to ray files, IES/LDT files have a large number of free resources that can be found on the web.
Luminus can generate IES and LDT files on request for any of the components listed as having a ray file in our Design Files website page.
Using IES and LDT Files
Dialux and Relux are two examples of optical design programs that use IES and LDT files for scene design with multiple light sources. The database repositories for these programs are focused on luminaires, but LED component beam patterns can also be imported. Here is a video about using Dialux to calculate UVC irradiance.
IES files can be used as inputs to raytracing programs if the near field details of the light source are not required for an analysis. The advantage of using these files (or apodization) is that the numbers of rays can be increased/decreased to arbitrary levels.
Details like the LED metallization grid shading are an example of near field data included in ray file representations that are not available in IES/LDT files. However, once you get a few millimeters away from a source these details become less important.
Viewing IES and LDT Files
We generally use IES Viewer to view IES/LDT files in a file explorer type of interface. TechnoTeam has a free 3D viewer that helps to visualize beam patterns. LuxPy has an online interface that views and renders files.
Editing IES and LDT Files
Both of these files are text files and can be edited with any text editor. We use Notepad++ since it has a number of convenient features but any text editor will work. The LDT file format description uses line number positions to define light source information and the IES file format uses a mixture of label codes and line sequences. Dialux provides a utility for editing IES and LDT files and saving them as LDT files.
Visualization of a Lambertian light source using 3D viewer.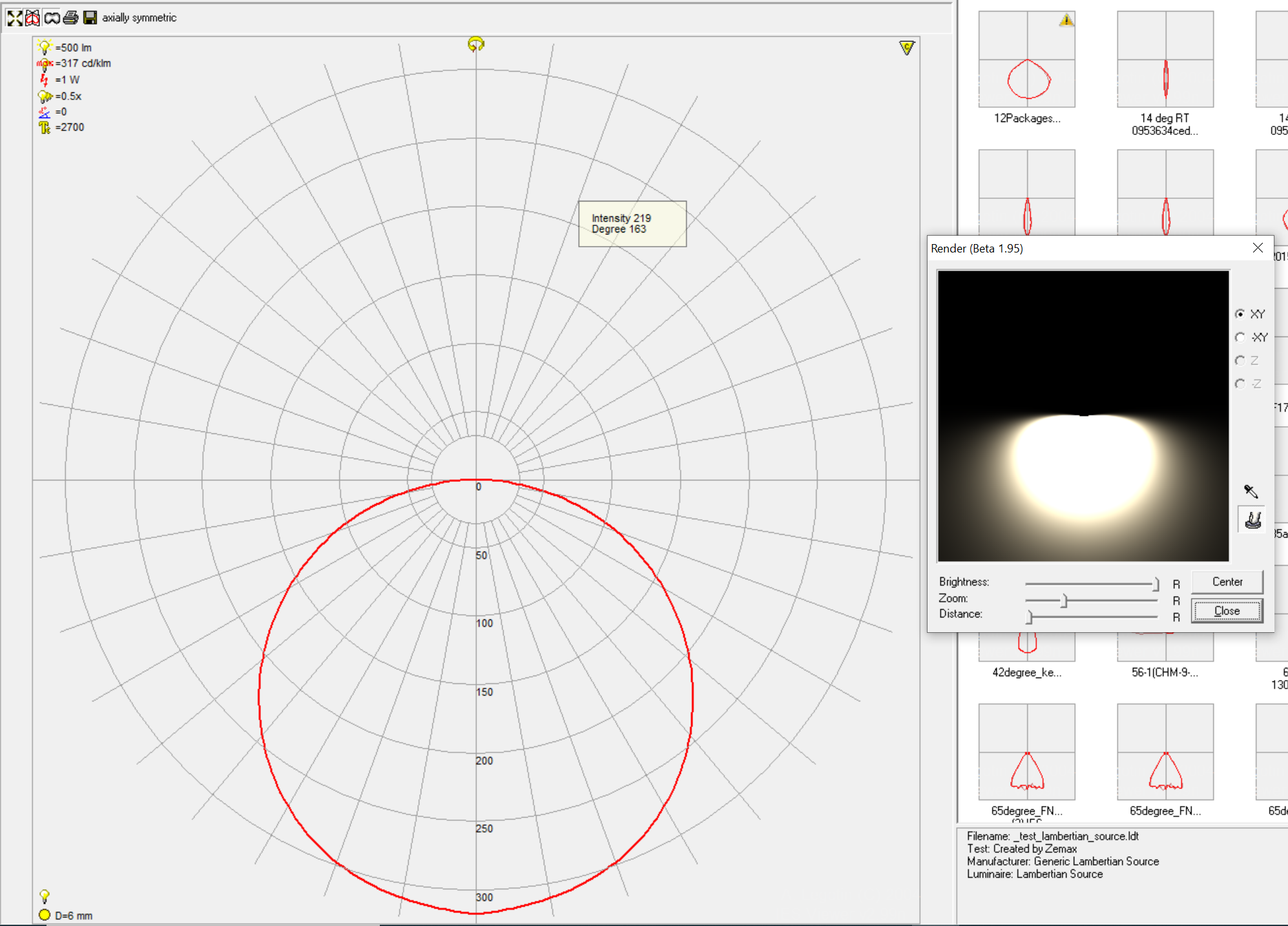 IES Viewer interface for the same LDT file.
LuxPy online viewer output
-------------------------------------------------------------------------------------------------------------------
These links are being provided as a convenience and for informational purposes only; they do not constitute an endorsement or an approval by Luminus of any of the products, services or opinions of the corporation or organization or individual. Luminus bears no responsibility for the accuracy, legality or content of the external site or for that of subsequent links. Contact the external site for answers to questions regarding its content.