An electrical overstress event occurs when a short pulse of excessive electrical current passes through a device such as an LED. The current can cause localized heating damage of the LED chip or exceed the fusing threshold of the wire bonds. If the temperature exceeds an important temperature threshold, such as the melting point of the materials, the device can be damaged (see below). Damage may cause immediate failure, contribute to performance degradation, or shorten the lifespan of the device. Likewise, a device that is exposed to repeated stress events may accumulate damage until performance is significantly reduced or the component fails.
Damage to LED chip due to an EOS event that induced thermal damage in the device. The LED device layers have exploded and the wire bonds have melted.
Types of LED Electrical Stress
Electrical stress damage is often catastrophic for LEDs. Types of electrical stress include Electrical Overstress (EOS), Electrostatic Discharge (ESD), and Reverse Bias.
Most LED EOS and ESD failures occur due to thermal damage, metallization damage, contact damage, or junction damage. Metal melting commonly is observed due to an EOS, ESD-HBM (ESD-Human Body Model) event. Increased reverse and forward current leakage are characteristic of damaged devices. EOS/ESD damaged devices often display small dark spots in the light emitting area that can be observed at low currents during electroluminescence characterization.
At higher voltages—around 2 kilovolts (kV) for the HBM—burned metal around the cathode bond pad is common. This type of ESD damage is distinguished from EOS damaged devices where the anode pad is charred.
ESD damage generally occurs in singular, discrete events. An ESD event is defined as a significant spike of voltage discharged across the device. The spike or pulse generates sudden extreme temperatures locally within the LED, and as such can melt or otherwise destroy vital components. This damage often results in small holes in the epitaxial layer (EPI). These holes can be difficult to see with the naked eye—thus, it can be difficult to confirm ESD damage as a root cause.
EOS damage is sustained due to operation above the device's maximum operating voltage or current or due to excessive power surges from the environment. Cumulative EOS damage occurs over time as the device is continuously operated at increased currents. In LED structures, electromigration in the contact grids and silver diffusion can occur due to long-term EOS stresses. Catastrophic EOS damage is usually the result of surges. This internal thermal stress on the device can quickly compromise the structural integrity of the system, often leaving molten areas in the epitaxial layer (EPI) or in the bond wire.
Root Causes of Electrical Stress Damage
Electrical Overstress (EOS) - Luminus LED components are integrated into a wide variety of lighting systems. Depending on the application, the LEDs are exposed to different levels of EOS threats. System level EMC testing guidance is contained in the IEC 61000 series of standards. These tests are severe and significant attention to the system design is required to produce a robust lighting system that can survive these test levels.
The most severe transient conditions on power and data lines are surges caused by nearby lightning strikes and equipment switching (IEC 61000-4-5). Switching transients include power system switching, load changes, and short-circuit faults in nearby equipment that may not be directly connected to the LED luminaire. These are called electrical fast transients (EFT) and are described in IEC 61000-4-4.
At the component level, EOS threats are mainly due to poor handling and/or test fixture design and therefore are preventable. The IEC 61340-5 and ANSI/ESD S20.20 standards provide guidance on preventing EOS and ESD damage while LED components are being assembled into a system.
A global survey was conducted by JEDEC to summarize potential root causes of electrical stress damage on LEDs, summarized in the figure below. Luminus highly recommends that customers avoid these situations in their LED use to prevent damage.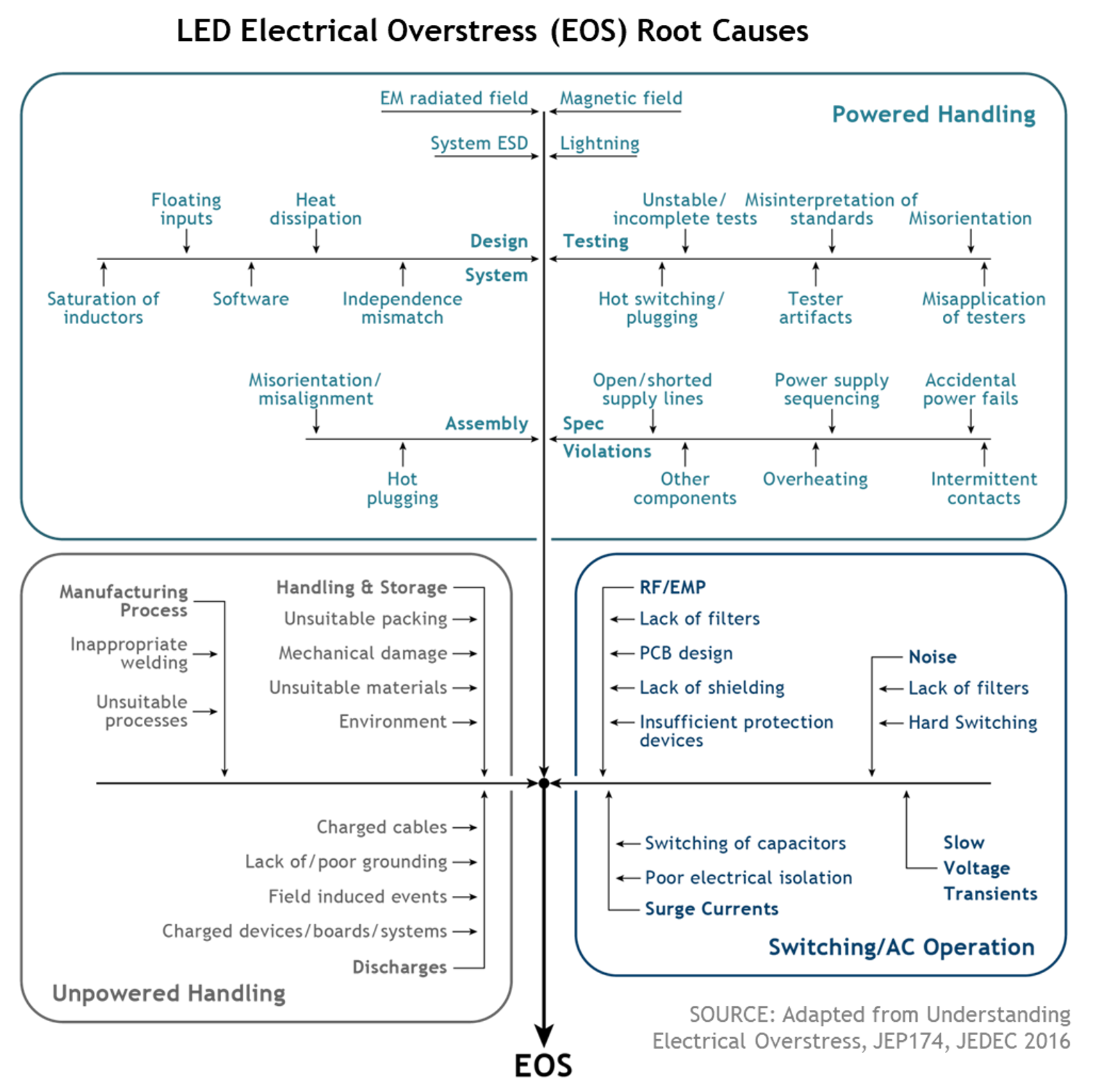 Electrostatic Discharge (ESD) - Any relative motion and physical separation of materials or flow of solids, liquids, or particle-laden gases can generate an electrostatic charge through triboelectricity or static induction. Common sources of ESD include personnel, items made from common polymeric materials, and processing equipment. ESD damage can occur in several ways, including:
A charged object (including a person) contacting an ESD-sensitive (ESDS)
A charged ESDS device contacting ground or another conductive object at a different potential
An ESDS device is grounded while exposed to an electrostatic field
ESD damage usually happens as discrete events that are random in time, position, and polarity. If a repetitive failure mode is observed that is non-random, ESD is unlikely as a root cause and other potential factors should be carefully considered.
The best guidance on preventing and managing ESD is outlined in these standards: ANSI/ESD S20.20 and (particularly) ESD TR20.20. Luminus strongly recommends customers follow the ESD control programs outlined in these standards; key points are summarized in this application note for quick reference.
Reverse Polarization - LEDs produce light in forward bias and are not generally designed for reverse bias operation. LEDs consist of a p-n junction, and if a high voltage surge goes through the device in the reverse direction the junction can be destroyed due to excessive currents.
For any Luminus LEDs, unless the product datasheet specifically states safe parameters for reverse bias operation, the designer should assume that reverse bias operation will cause cumulative damage to the LED and lower its rated lifetime. LEDs are much more sensitive to reverse bias events compared to forward bias events, which is why single polarity (rather than back-to-back) Zener diodes are often used for ESD mitigation.
To learn more about electrical stress and how to prevent damage to LEDs, read the Luminus Application Note: Electrical Stress Damage to LEDs and How to Prevent It.
--------------------------------------------------------------------------------------------------------------------
Luminus Website https://www.luminus.com/
Luminus Product Information (datasheets): go to the main page and select Products and then select the type of product you are interested in.
Luminus Design Support (ray files, calculators, ecosystem items: [power supplies, lenses, heatsinks]): go to the main page and select Resources & Tools and select the item you are interested in.
Luminus Product Information sorted by Applications: go to the main page and select Applications.
Where to buy Samples of Luminus LEDs: https://www.luminus.com/contact/wheretobuy.
--------------------------------------------------------------------------------------------------------------------
Technical Support Contact Information: techsupport@luminus.com
Sales Support Contact Information: sales@luminus.com
Customer Service Support Contact Information: cs@luminus.com